There are a few basic things you can do to make practicing yoga thoroughly enjoyable at home, or wherever you may be.  We created this guide to help you start off the right way.
Action Steps
1  Buy an Online Pass
Choose to practice with us on-demand or via live-streaming classes.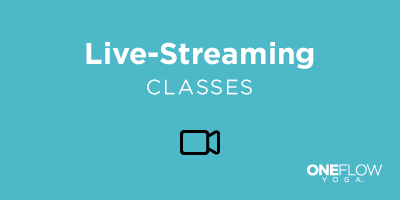 2  Set Up Your Space for Yoga
In the real world, most people practice yoga based on the space available to them.  We have people practice in dining rooms, hallways, garages, bedrooms, and backyards.  Some yoga practitioners are surrounded by guitars, and others by fitness equipment.  What you need to practice yoga at home is this:
You need enough space for your yoga mat, plus two feet on each side.  
We know that's not always possible, but look around and get creative.
3 Dress for Success
To practice yoga, we recommend you wear comfortable exercise clothing you can move in.
You don't need anything expensive, just clothing that allows you to stretch and bend.  
Women tend to wear yoga pants and leggings while men often wear shorts.  Tank tops or t-shirts work well and you probably want something that is more form-fitting so it doesn't end up over your head in poses like downward-facing dog. 
4 Gather Your Gear
At a minimum, you are going to need a yoga mat.  If you're just getting started, any cheap yoga mat works such as those you might get at Target or other big box stores.  If later on, you decide you enjoy the practice and do it regularly, then it makes sense to invest in a great mat.  A premium mat costs about the same as a pair of quality running shoes.  Here are the mats we use.  
You'll also want to have a small hand-towel with you.  It's great for wiping sweat, providing cushion for your knees, acting as a strap in certain poses and giving you extra traction for your hands.  
The only other tools we recommend are two yoga blocks.  A great set of blocks is around $30 but is so worth the investment.  We recommend the Hugger Mugger blocks because they are the right size, 4", and have a nice balance of cushion and support.  
If you don't have blocks you can use a couple of thick books or two 32oz cans of tomatoes. We've also seen people use barbells and other household items.  In the beginning, the blocks are there to make it easier for you to touch the ground.  
Blocks serve multiple purposes such as providing support for many postures.  They also are great to sit on, particularly if your hips tend to be a little tighter.  A folded blanket, towel, or cushion also works well in that capacity.  
5 Set Up How You'll Listen and Watch
Most people use their phones to view classes.  
If you're looking to have the best experience then focus on your sound set-up.  Sound is the most crucial part of practicing at home.  
At One Flow, We teach in a way that you do not need to see the screen.  
We do this by giving clear step-by-step instructions.  We also record in high-quality audio so that you don't have to blast your phone or other devices to hear the class. 
While your phone speaker can work well, you might consider a Bluetooth speaker or using wireless headphones.  Many people use AirPods.  If you do go the headphone route, make sure you get wireless headphones built for sports, otherwise, they might fall out of your ears as you move around. 
If we're watching one of our on-demand videos, we'll put on our headphones, play the video and select a playlist we like to accompany it. Yes, you can have both playing in your headphones at the same time.
Pro-Tip: If you are using something like Spotify, you can lower the volume of the playlist in Spotify so that the video sound is louder than the music. Raising the phone or headphone's volume only controls the "master mix" and not the individual playlist and video.
6 Use Your Environment
One advantage of being at home is using your environment to your advantage. You can hold onto furniture and walls for balance. You can also challenge yourself by lifting your leg over your bed, chest of drawers, or armoire. (Go Big!)
For Live Streaming
If you are live streaming a class we ask that you keep your camera on so we can see and connect with you.  This also allows us to respond to how you are moving and offer helpful cues.