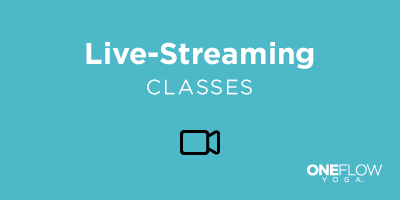 On-Demand Classes are designed for you to practice whenever you desire.  They feature an ever-growing pre-recorded library of classes that feature a variety of class levels.  And they have the challenge, personal connection, and special sauce One Flow Yoga is known for.
Beyond convenience, we believe you deserve online yoga classes that are challenging and fun.  
One thing you'll notice immediately is the camaraderie of our teachers.  
We share a philosophy of teaching and yoga that makes the experience feel more connected--like the teachers are from the same yoga studio, which we are.  Each teacher, though, shares the practice with their own sense of style.  
HIgh-Quality.  CHECK
Our classes are filmed in high-quality 4k video which means they look good on your phone, desktop, or big screen TV And the sound quality is worthy of your headphones or favorite blue-tooth speakers. We made quality a priority because no one wants to sound like they are practicing in a cave.
Special Sauce
It's a rare skill to teach to a camera.  We get asked a lot, "how do you make it seem like you are teaching just to me." It's no secret, we imagine you are on the other end of the camera. This is a difference and connection you can feel.
Choose Your Class Level
Level 1-Beginner Friendly Classes
If you are new to yoga and want to learn the basics, build strength, flexibility, and balance, in a safe, accessible class--this is where to start. These classes offer step-by-step instruction that is clear and simple to follow without you having to look at the screen.  We say these are simple but not easy because you'll be challenged.  And you'll be able to do it.  
Through repetition, you'll establish a foundation, grow your confidence, and develop your skills.
Level 2
Our Level 2 classes bring a whole new level of nuance and understanding to familiar postures. They are the balance of shape and refinement, rhythm, and soul.
"We laugh, play, and offer you the best yoga around."
How Does this Work?
Once you sign up, you'll receive your login and password in less than 5 minutes.  From there, click on our login page, login, and you'll be taken to your dashboard.  Now do a simple search to find your perfect class and press play. 
Full Unlimited Access to On-Demand Classes
Classes For Beginner & Experienced Practitioners
High-Quality Audio & Video
Find You Favorites & Watch Them As Much As You Want
Supports Local Yoga & Keeps It Thriving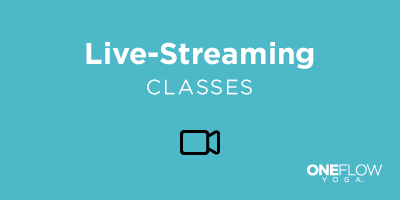 Live-Streaming Classes are live classes.  The in-studio experience of having the teacher respond in the moment to what is occurring is all there.  Teachers will watch and respond to what you are doing and give cues that can help you explore and expand your practice.  Plus you are moving with the One Flow Yoga community that is also taking the class.  There's pre-class time to check-in and say hi.  Many students tell us they love having pre-scheduled classes that they put in their calendars.  This way they know they are getting your self-care time.
How Does this Work?
Once you buy a pass you can login and sign-up for classes on our live-streaming system.  Check the schedule, then sure to sign-up at least 30 minutes before class time.  At 15-minutes before the start of class, you'll receive an email with a unique access code for that meeting.  We use zoom as a streaming platform, so be sure you have the zoom app downloaded and installed.