Live-Streaming and On-Demand Classes
Real Yoga Classes in the Comfort of Your Home
There are two reasons to offer online on-demand and live-streaming classes.  The first is to support you, our One Flow Yoga community.  By going online we can ensure the yoga you know and love is available to you.  Yoga is a practice for the physical, mental, emotional, and spiritual and as such is a necessity, especially in challenging times.  It is a place of calm, grounding, and normalcy in turbulence.  And it's a chance to play, move and connect.
The second reason for going online is to ensure our teachers, studio and community endure.  Your continued support and participation mean the difference to our survival as a small, local, business.  We are deeply grateful for you.
Now the fun part—the online live classes are real yoga and feel more like being in the studio than you might imagine.
Two Different Types of Classes
We have two different types of online offerings.
Keep Reading to learn the difference between on-demand and live-streaming classes, and to understand the process to make your experience as easy as possible.
On-Demand Classes
On-Demand classes are RECORDED classes.  They feature high-quality audio and video and are available for you to take at your convenience 24/7.  Our On-Demand Class library grows weekly and is a chance for you to practice and to build your skills.  The teacher will be teaching an assistant on the mat so that you can see the posture if you choose.  You can pause, rewind, and repeat the video for understanding.
The on-demand classes feature our unique step-by-step approach to teaching and are filled with humor, personality, and joy.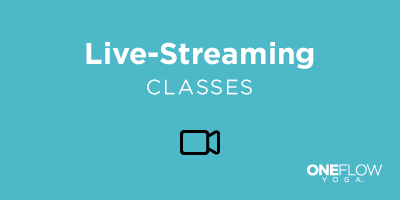 Live Streaming Classes
Live-streaming classes are live, meaning they happen in real-time and have a set start time and end time.
All of our teachers co-create class moment-by-moment.  They watch and respond to what is happening in the present.  It is the difference between someone being in the room with you and someone truly paying attention and being with you.
In a Live-Streaming class, the teacher will be teaching rather than practicing.  You'll be able to see the teacher, and they'll see you as we do in in-studio classes.
Live-Streaming Classes meet the demands of you who want the feel of connection and community.  On a Live-Streaming class, you can see and check-in with the other students you practice regularly with.  We've also heard that you like the level of accountability a Live-Streaming class offers.
CLASS FEES
On-Demand Classes
To purchase On-Demand Classes, visit our on-demand rates page to see your options.  This is the most economical way to practice.  Note, the $39.99 monthly subscription and $20.00 day passes give you access to On-Demand Classes only and not to Live-Streaming Classes.
The studio sustaining membership of $115 gives you access to BOTH Virtual Live-Streaming Classes and On-Demand Classes.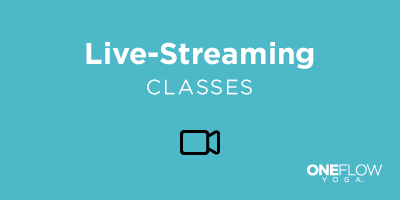 Live Streaming Classes
Live-Streaming Classes are charged at our normal rates.  You can use either your unlimited monthly membership and in-studio class passes or buy a live-streaming specific pass.
If you are a current in-person One Flow Yoga member—meaning you pay a regular monthly membership—then you have access to In-Studio, Live-Streaming Classes, and On-Demand Classes.
They are two different systems, so you will need two different logins.  Read the How-To Section below to see how to access each class type.
HOW TO:
On-Demand Classes
1. Login to the dashboard to see the on-demand recorded classes. Use the unique password emailed to you and use the email we have on file for you if you are a member use the email you signed up with.  Note:  once you purchase the email is sent within 1 minute.  If you do not receive it, check your spam folder.
2. Select the class based on Level, Duration, Teacher or Title, and press play. Classes play well on desktops, laptops, tablets, or smartphones.
3. The player we have chosen automatically searches and delivers the best quality for your internet connection. If your frame freezes, check your internet connection.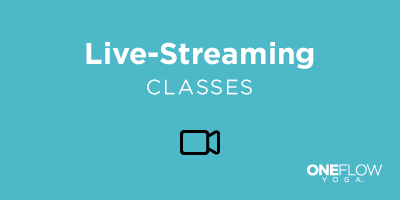 Live Streaming Classes
1. You register for a Live Streaming class just like you would an in-person studio class.  Log into your One Flow Yoga MBO account and verify your email address is current.  This is important because we'll email the access link to the email on file.
2. We use the Zoom platform to deliver live-streaming classes.  Before taking your first class, download the Zoom app for desktop or mobile using the same email address. We ask that you turn your camera on for the best possible experience.  We use ZOOM to live-stream our classes because of its ease of use.  It works on laptops, tablets, and, smartphones.  If this is your first time using Zoom, please take time to familiarize yourself with it before your first class as we cannot offer technical help during class.
3. Sign up for classes 30 minutes before class start time. Class sign-ups are cut-off after that to give us time on the backend to generate links and emails.  You can find our schedule here.
4. An email with a class-specific link will be sent to you 10 minutes prior to class. This URL is only good for one class.  PLEASE NOTE:  you may need to check your spam or promotions folder
5. Once you sign-in, you may either see a Meeting Registration page, if you haven't signed into Zoom yet. If so, please fill out your name and email address that matches our records.  This is a one-time only form.
6. Once in, you'll either see the teacher and other students, or you'll see a screen that says, "Please wait, the meeting host will let you in soon," along with the name of the class and the teacher. The class officially lets everyone in at 5 minutes prior to the start.
7. Be sure your video is on, and your mat is facing toward the camera. Where to point your camera.  The camera should be able to see most of you in a high lunge position.
8. Unmute your microphone if you want to say hi to others. Once the class starts, the teacher will mute all microphones.
9. Now enjoy your practice in your own home with your favorite teacher. We are grateful you have invited us in to share yoga with you.
Frequently Asked Questions
We are working diligently behind the scenes to make this process as smooth and seamless for you as possible.  Thank you for your patience as we iron out any bumps.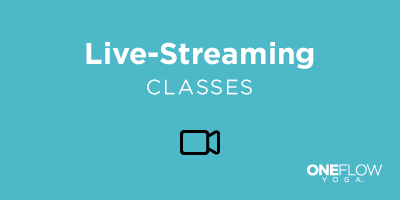 LIVE STREAMING PREPARATION AND TROUBLESHOOTING
Will I be seen as I am practicing?
Yes, that's a key part of being in a live class.  The teacher will see and respond to how you are practicing—like we always do.  The meeting is not being recorded, though, and the teacher is always interested in you and not your environment.
Can I change the view, so I am only seeing the teacher?
You can click "Speaker" view to follow only the teacher.  "Gallery" view will show other students in the class.  We recommend "Gallery" view as it's nice to see and connect with other students.
Can I ask questions during class?
The live-streaming classroom is like the in-studio classroom.  Teachers are available afterward to answer brief questions.  We cannot take questions during class.
What is the best browser to use for Live-Streaming classes?
ZOOM works best with the Chrome web browser if you are using the desktop app or laptop.
What should I do if my class freezes suddenly?
On rare occasions, this does happen.  If so, stay in the class, and it should resolve in a moment or two.  If your frame freezes constantly, it may be a bigger issue with the speed of your internet connection.
Can you help me with the technical aspects?
As teachers, we will try to offer what minimal assistance we can.  If you have questions about logging on, password resets, etc., please email us.  Unfortunately, we are not able to stop class to troubleshoot specific situations.