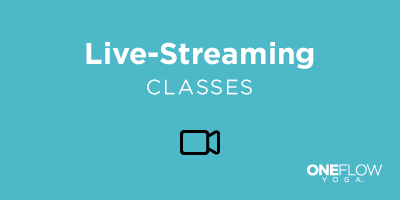 Live-Streaming--A Live Class, Streamed to Anywhere You Are
Single Class
$30
Live Class
May be used for 1 live-streaming or in-studio class
Classes for Beginners & Experienced Practitioners
High-Quality Audio & Video
10-Class Pass
$225
15% Savings off individual classes ($21/class)
Live Class
May be used for live-streaming or in-studio classes
Classes for Beginners & Experienced Practitioners
High-Quality Audio & Video
What is the difference between live-streaming, in-studio, and on-demand classes?
Live-streaming classes are live classes that are streamed from our studio to your device, most likely a phone, laptop, or desktop.  They are perfect if you prefer to practice yoga at home, wherever that is in the world.  In a live class, the teacher can see you and offer helpful cues based on what is happening at the moment.  You can also make requests for poses you'd like to explore.  
In-studio classes are in-person classes that happen at our studio in Sacramento, CA, or outside on occasion.
On-demand classes are pre-recorded classes you can take anytime, anywhere.  We offer a growing library of classes for beginners and experienced practitioners alike.
Do I get access to on-demand or in-studio classes with my live-streaming pass?
With a single, or 10-class pass, you can take either a live-streaming class or an in-studio class.  
To get access to our on-demand library, you will need a separate on-demand pass, or upgrade to an in-studio monthly unlimited which gives you access to all three class types.  
 What if I need help logging in or figuring out how to get started?
The easiest and fastest way to get answers is to check out our online classes faq page.  If you need any other help, simply e-mail us.  
Anything else I need to know?
Yes.  We are grateful you have read this far.  Also, there are no refunds or exchanges on passes and passes are non-transferable.