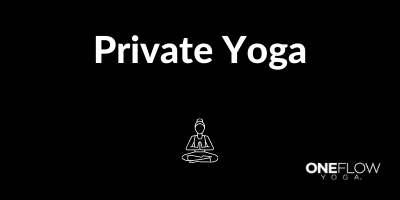 If you answered yes to any of the above, private yoga is for you. 
In a private yoga session, you work individually with a One Flow Yoga® teacher to address your specific needs.
Our teachers will meet with you, ask about your goals and formulate a plan to get you there.  And because it's 1-on-1 you decide how fast or slow you go to meet your goal.  
We can also work remotely, so you can have a private yoga session streamed wherever you have a reliable wi-fi connection. 
Private Package
$400
4 Session Package (once a week)
Semi-Private 2-3 People
$150
Semi-Private Package
$520
4 Session Package (once a week)
Semi-private yoga is great for small groups who want a yoga class at a specific time or for corporate yoga.  
Contact us to set-up semi-private sessions and to see how we can help you.
Benefits of Private Yoga Sessions
Rehab injuries and support healing

Work towards specific goals in your practice

Get help in adapting and modifying the practice for your body

Receive a practice tailored to your individual needs

Find a time to practice that works for your schedule

Obtain helpful, immediate feedback on alignment
How We Work
The personal attention you receive during a private yoga session can make a true difference in your body.
Our teachers will take you through an evaluation to ensure your needs are met. They then make recommendations and begin to work with you. Each of our teachers teaches responsively—meaning they constantly see what is happening in your body and make adjustments as the session unfolds.
All private sessions are an interactive experience and your questions and concerns are always welcome. Hands-on assists are offered where helpful and homework may be assigned. All sessions are 60-minutes long.
Repetition is a key component of learning. We suggest starting with a 4 classes and scheduling weekly sessions to see the most progress.