200 Hour Yoga
Teacher Training
ONE FLOW YOGA® 200-HR YOGA TEACHER TRAINING
A Transformative Educational Experience
Whether your goal is for personal growth and enrichment or to have the skills and knowledge to teach effectively, you can make it happen here.  Immerse yourself in the deeper dimension of yoga and discover why it's such a potent way to change lives. 
That Happens to Be in Sacramento
The 3 Main Reasons People Take Teacher Training
1) You Want to Live a More Meaningful, Loving Life (i.e. personal growth)

2) You Want to Deepen Your Yoga Practice

3) You Want to Teach Yoga
You Want to Live a More Meaningful, Loving Life
You Want to Live a More Meaningful, Loving Life  
Call it transformation, knowing yourself or finding authenticity, yoga teacher training will change your life.  You don't just want any change, though, you want what we all want, to feel love, know that you matter, and to embrace the amazing person you are!
And you're not alone.
Based on our own internal surveys, the number one reason people take teacher training is for personal growth.  And that's amazing because it means yoga teacher training is really about self-awareness or who you are on the inside.
That's critical because your internal world of,
thoughts
feelings
desires
hopes
fears
experiences
is driving your outside actions.  Taken together, these internal qualities make up who you are and affect everything you do.  You lead as you are.  You parent as you are.  And yes, you will teach as you are.
But as a society, we don't spend a lot of time exploring our inner being choosing instead to focus on the external world.  The internal is a mystery to us.
And that's where yoga comes in.  Yoga is often dismissed as a series of postures and stretches.  Look a little deeper though, and you see that the poses, and more importantly how we do them, represent our internal states.
For instance, if we continuously rush through a posture or a sequence, that is helpful to know.  Likewise, it is revealing if we always go to the furthest expression of a posture or never go anywhere near it.  These ways of moving aren't good or bad, right or wrong because there is no one correct way to do a posture.  However, more often than not they are unconscious patterns we have adapted to address daily living.
In teacher training at One Flow Yoga, we'll show you how to use the insight, of the inner state affecting your outer world, to move from an ordinary, stressed-out life, to one of deep connection and joy.
You Want to Deepen Your Yoga Practice
You Want to Deepen Your Yoga Practice
You love yoga and how you feel when you do it.  You've been practicing for a while, and now you want to learn how yoga works.
Perhaps you've heard there's more to yoga and even tasted a little bit of it.
Yoga Teacher Training Is How You Learn the Depth of Yoga in the 21st century.
There's not enough time in a class to cover all of these concepts or explore them thoroughly.  Cobbling together a series of workshops doesn't provide the same cohesive experience.  Even if you could, it would take you years to consider everything we do in a few months.
Teacher Training at One Flow Yoga is the place you can go deep to understand what yoga offers, including its various tools such as meditation and breath work.  You will learn about the philosophy and how it informs the practice and what we do on and off the mat.
It's an immersion focused on engagement, participation and getting involved.  Perhaps it's no coincidence that one of the most common definitions of yoga is engagement rather than union.  There's no standing back but an invitation to jump in with both feet.
In response, you'll express yourself through your own voice.  You get to ask for what you want out of life.
Studying yoga in a teacher training setting gives you the support of other like-minded individuals also doing the work.  Yoga has always been studied in the company of others.
    1.1     atha yoganusasanam
        Now let us study yoga together.  (from the Yoga Sutras of Patanjali)
You Want to Teach
If you know that you want to teach, then the next question is "how do you get the best yoga education you can?"
A quality education provides the foundation that will frame how you see the practice going forward.  There is a false assumption that all yoga teacher training programs are the same.  Visit a handful of yoga studios, though, and you quickly realize that no two are alike.
Most people come to teacher training with only a vague idea of what they'll be learning or what they need to learn to become teachers.  That's important because teacher trainings are significant investments.  What is the value you are getting?
You may think teacher training is learning the names of postures or memorizing a sequence that you then teach to others.  But when you get down to it, you find that teaching involves your whole being.  It goes back to knowing yourself.
After all, how do you create space for others to feel heard, held, and honored?
This work, then, applies not only to teaching but also to being a parent, working with clients or showing up for every other relationship in your life.  Just like it takes time to learn a craft or be a better parent, it takes time to grow as a teacher.
Look for a safe, supportive teacher training environment because learning to teach is hard enough.  Take several classes at the studio you want to learn at, especially with the lead teacher(s).  This will give you a lot to go on.  For instance, you can tell:
How the teachers teach
What their priorities are
This will give you a good idea of how you'll end up teaching if you study there.  This doesn't imply that you'll become a carbon copy, but that each program has things that are important to them.  Some focus more on the anatomy aspects of teaching yoga, while others make it more meditative oriented.
Finally, taking class ahead of time will give you a feel for what the lead teacher is like. 
Remember you'll be spending a lot of time with the lead teacher.  They set the tone for the training.  Do you resonate with them?  Can you imagine learning from them?
Give yourself the room to grow.  You'll be surprised at the difference you feel after a year of teacher versus just starting out.  And that continues as you look back after five years, ten years and beyond.
Likewise, it takes time to become a teacher of teachers.  They must learn to see what's going on in the room and know where to give and where to hold boundaries.  It is a balance of holding space for others to be heard and helping everyone do the work.
There is a concept in yoga called svadhyaya which is sometimes translated as self-study.  It means to place in your heart.  It is the idea that you take the information you learn, put it to use, get to know it and ultimately make it your own.  Once again this takes time and constant practice.
Whether you intend to teach or not, the practice of teaching yoga will offer you skills that you can use in every other relationship in life, including the one with yourself. 
And it will change how you see the world.
Why Choose One Flow Yoga Teacher Training
Why One Flow Yoga Teacher Training is Right for You
At One Flow Yoga you will learn a modern, well-informed practice, rooted in the teachings and canon of tradition, yet interpreted for a worldly purpose. 
Proven Experience 
Kate, the founder of One Flow Yoga and lead teacher trainer, has been practicing yoga since 1995 and teaching since 2005.  She has studied with some of the most well-respected teachers in the world and has taught over 10,000 hours.
She is considered a Senior Teacher and has the highest level of recognition from the Yoga Alliance, E-RYT-500.
Being responsible for the staffing and development of a large yoga studio gives her a unique perspective.  We draw our teaching faculty from the pool of teacher training graduates.  Thus the success of One Flow Yoga's teacher training program is ultimately judged not only by the program's participants but also by the actual students our faculty teaches. 
And we get high marks here.
"The caring and amazing staff keep me coming back."  Daisy P.
"The studio has exemplary teachers with a strong knowledge base of all things yoga."  Terrie M.
"Great teachers with a variety of teaching styles yet similar levels of difficulty." Juliana S.
 "Skillful classes that bring all aspects of yoga to the mat.  Teachers that offer true "teaching" (asana as well as philosophy), as opposed to simply calling out poses."  Kelly P.
"The instructors are kind and understanding.  Class does not feel competitive or rushed.  I feel comfortable and safe."  Taylor B.
You can be confident you will receive an education that prepares you to teach effectively in the real world if that is your desire. 
Personal Format
There are many ways to teach teacher trainings.  The most common format is:
Big group discussions and lecture
Emphasis on yoga practice versus yoga teaching practice
By contrast at One Flow Yoga, we move beyond knowledge acquisition to a place where you can apply the knowledge.  You'll learn in a smaller group format as we limit the size of our training.  This gives you more individualized attention and opportunities to participate.
Design and Structure
Knowledge + Practice + Feedback
Knowledge provides the foundation and the theory.
Practice is the hard part.  It's taking things out of the lab and into the world.  For instance, you may have the knowledge that you want to be kind, but have you actually tried to do it for half an hour.  Kind in your thoughts, words, and actions.  It's challenging, especially when it comes to the way we talk to ourselves.
Feedback lets you know what adjustments to make and how you are doing.  People who excel at high levels seek out feedback.
One Flow Yoga Teacher Training is designed to help you learn the practice of yoga, apply the learnings to your life and make a profound difference in the way you see, interact with the world and yourself.
We approach teaching as a skill, which you can learn.
Early-Bird First 5
$2995
Available to First 5 Signs-Ups
Must be Paid in Full to secure rate
All Payments made are Non-Refundable & Non-Tranferable
Regular Rate
$3495
Paid in Full by September 4, 2024
$800 Deposit Required & is deducted from total cost
All Payments made are Non-Refundable & Non-Tranferable
Payment Plan
$3600
$800 Deposit Required & is deducted from total cost
First Payment $1000 Due Sep. 4, 2024. Then 3 Equal payments of balance
All Payments made are Non-Refundable & Non-Tranferable
WHAT YOU'LL LEARN:
Our innovative curriculum moves beyond merely teaching content to explore what's possible in the practice of yoga.
Poses
Study the classical postures in the text that defined them.
Sequencing
Understand the different approaches and their effects.
Breath—Pranayama
How you use this powerful technique to change your mind.
Meditation
What mediation is and how you use it, on and off the mat.
Anatomy
How to think critically about anatomy as applied to yoga
Assisting
How to safely connect through touch to support others.
Philosophy & History
What yoga is as drawn from the primary texts.  How it came about and evolved?  An exploration of the significant periods of yogic thought and how can you take these insights back into your practice?
Experiential Themes
How you create a cohesive experience.
Story
How you weave narrative and a throughline in class.
Ethics
Understand the role of the teacher, power dynamics, consent, and other considerations.
Business of yoga
Explore the path of teaching.
Teaching Skills
Learn the various skills teachers employ to effect change.
Yoga Teacher Training Sacramento 2024
Our Yoga Alliance 200 Hr approved program, offers more than a certificate: you receive the highest quality education.
Starts September 2024, Sacramento
Wednesdays
Thursdays
Saturdays
Sundays
6:00p - 9:00p
6:00p - 9:00p
9:45a - 5:45p
8:00a - 5:00p
3 Hours
3 Hours
7 Hours
8 Hours
Every Weekend
    Variety of yoga practices
    Teaching practice
    Introspection
    Feedback
    Small steps | consistent effort
    You can do this.
You'll learn through repetition.  Concepts build.  There is a lot to learn and what makes the difference is putting it to use.
You'll be challenged, physically, mentally and emotionally.  And you'll find the challenge comes from within you.  This is the hardest work most people have ever done for it's a different kind of work—loving yourself. 
Yoga Alliance 200-Hour Standards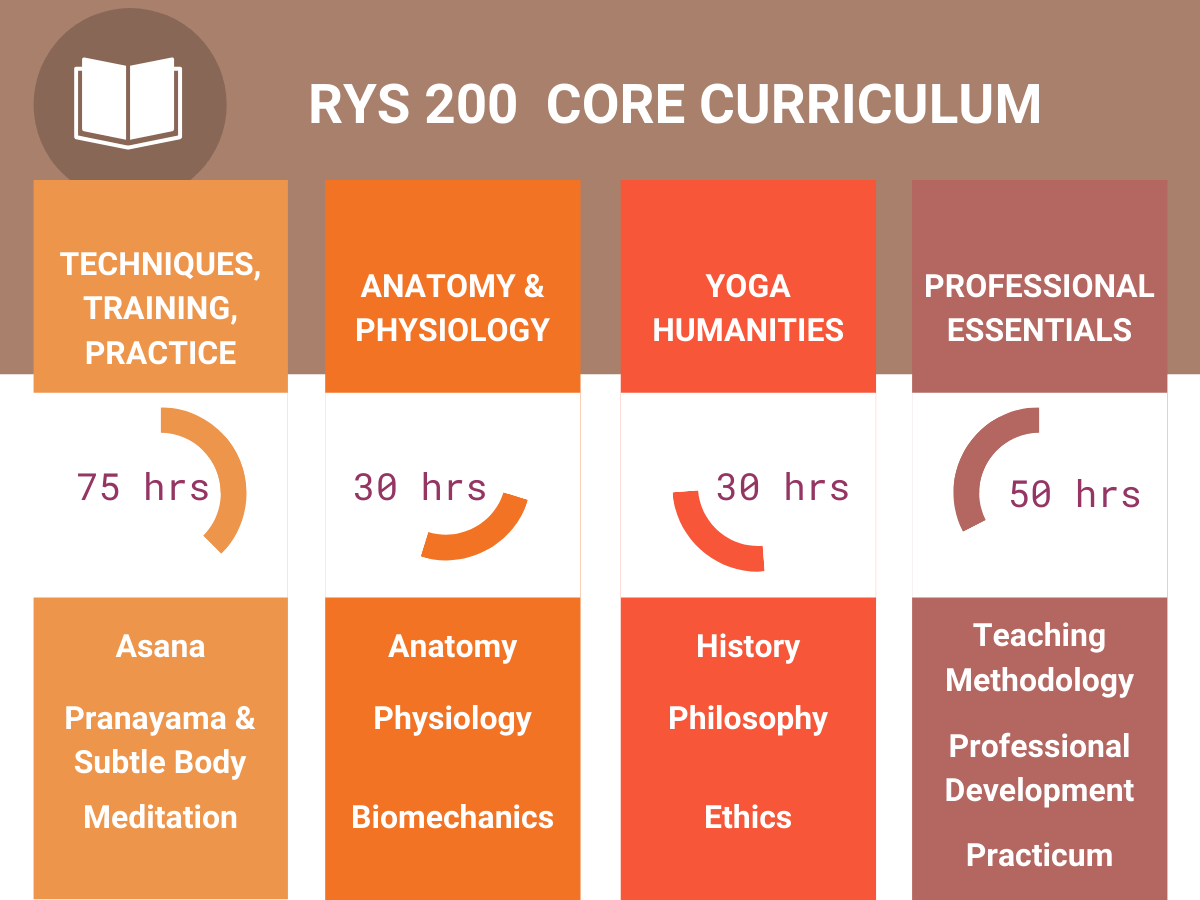 These are the new yoga alliance 200 hour standards that take full effect for all schools in February 2022.  The remaining 15 hours are elective, which must fall into the above core curriculum categories.
You'll be forever changed and empowered. 

You'll learn to own your life and face the things that you fear or have been holding you back with confidence, kindness, and love.

You'll discover what drives your actions and how to make real lasting change for the better.

You'll be in an incredibly safe and supportive environment.

You'll have a practice you can rely on throughout life's ups and downs. 
Next One Flow Yoga Teacher Training 2024
FAQ
Questions to Ask of Any Teacher Training You are Considering
Yoga is very specific thing that comes from a body of texts collectively known as the yoga sastra.  
Within yoga, there are many different schools of thought and each will have a slightly different take or viewpoint.  Yet, all pass through the major texts, such as the Bhagavad Gita.  
It's surprising how many programs and teachers do not read these because they form the basis of yoga philosophy.  
At One Flow Yoga we study the Bhagavad Gita, Yoga Sutras of Patanjali and the Upanishads.  The texts help us to frame a coherent yoga philosophy and both learn and teach from a place of substance.  We feel this is critical because the philosophy informs the practice.   
Sequencing can be thought of as the way the class is put together.  It is the structure that gives a class logic and focus.  Thoughtful sequencing is soothing.  It tells a story and makes sense in your body.  
The opposite of that is randomness which feels like a bunch of postures thrown together.  This is jarring to your nervous system.  
The other option a lot of programs choose to offer is a script. You learn one class.  This has the advantage of allowing a program to teach a lot of people quickly, but limits your understanding of how to build your own sequences later on.  
To sequence well, whether for a class or your own personal practice, you need to have an in-depth knowledge of the asana and study functional anatomy.  From there, sequencing choices are based on what your goals are for the practice.
One Flow Yoga is known for having creative, intelligent sequencing.  It stems from having an understanding of the various factors in sequencing and how they combine to create different effects and outcomes. 
Smaller programs allow for more personal attention.  
At One Flow Yoga we limit the attendance of teaching training.  You benefit by having more opportunities to participate, receiving more feedback and making rich connections with everyone in the program. 
Putting what you learn into practice happens through practice teaching.  Like any skill, deliberate practice takes time.  
The Yoga Alliance gives us the option to put the remaining 15 required hours where we deem appropriate and we put them all towards practice teaching.  You teach from night one. 
To be able to lead a 200-hour teacher training, a lead teacher must have taught for a minimum of two years and 1000 hours, according to the Yoga Alliance.  That is not a lot of time.  
We suggest you look for teachers who:
Have taught for at least 10 years
Have over 3000 hours teaching experience
Teach regular classes weekly
There are different phases to being a teacher.  The first couple of years you are simply trying to learn your craft and put different concepts into practice.  
Yoga Teacher Training is led by Kate, founder of One Flow Yoga.  She has been practicing since 1995, teaching since 2005 and has over 8500+hours of teaching experience.  Additionally, she's taught tens of thousands of students and 9 teacher trainings.  She is thoughtful, supportive, loving and kind in her approach to teaching as she knows how vulnerable, and utterly transformative, it can be.   
Learning to teach is challenging.  It takes courage to be able to stand in front of a group of others and lead.  The best teacher training programs recognize this and work to create a safe and supportive environment.  
You can get a sense of this by taking classes with the lead teachers.  How are they in class?  Are they kind and supportive or do they try to push you?  How are the other people in the room?  Can you imagine yourself going through challenging times with them?  
The teaching environment of One Flow Yoga is "safe, supportive and loving".  These are the words our graduates consistently use to describe their experience. 
Shorter programs may work better for your schedule but do not give you a lot of time to digest all of the content a rigorous program offers.  Look for a program that gives you time to process and apply what is being taught.  
The One Flow Yoga teaching training is a nine-weekend program distributed over four months.  It is paced to give you time to absorb the teaching and requires that you stay focused. 
Homework varies from readings to practice teaching to meditation.   
At One Flow students spend 5 hours, on average, on homework per week of training.
Talk with, or take a class with, a recent graduate of the program you are considering.  Notice how they are as a teacher.  Do they sound confident and relaxed?  What was their training experience like?  Would they recommend the program and if so, why?  
The teachers at One Flow Yoga teach with love and skill.  They work hard on their craft and are deliberate and conscious about the choices they make.  They embody taking care of others and holding space.  And they all sound different—like themselves.
The Yoga Alliance acts as a trade group for yoga.  It provides an industry-recognized registration process for students who complete an approved program.  This is the standard most yoga studios look for when considering teaching candidates.  
The One Flow Yoga® Teacher Training is an approved 200-Hr Yoga Alliance program.  Graduates receive a certificate of completion that they can use to register with the Yoga Alliance.  
Yoga Teacher Training Articles