Teacher Training Curriculum
WHAT YOU'LL LEARN:
Our innovative curriculum moves beyond merely teaching content to explore what's possible in the practice of yoga.
Poses
Study the classical postures in the text that defined them.
Sequencing
Understand the different approaches and their effects.
Breath—Pranayama
How you use this powerful technique to change your mind.
Meditation
What mediation is and how you use it, on and off the mat.
Anatomy
How to think critically about anatomy as applied to yoga
Assisting
How to safely connect through touch to support others.
Philosophy & History
What yoga is as drawn from the primary texts.  How it came about and evolved?  An exploration of the significant periods of yogic thought and how can you take these insights back into your practice?
Experiential Themes
How you create a cohesive experience.
Story
How you weave narrative and a throughline in class.
Ethics
Understand the role of the teacher, power dynamics, consent, and other considerations.
Business of yoga
Explore the path of teaching.
Teaching Skills
Learn the various skills teachers employ to effect change.
Every Weekend
    Variety of yoga practices
    Teaching practice
    Introspection
    Feedback
    Small steps | consistent effort
    You can do this.
You'll learn through repetition.  Concepts build.  There is a lot to learn and what makes the difference is putting it to use.
You'll be challenged, physically, mentally and emotionally.  And you'll find the challenge comes from within you.  This is the hardest work most people have ever done for it's a different kind of work—loving yourself. 
Yoga Alliance 200-Hour Standards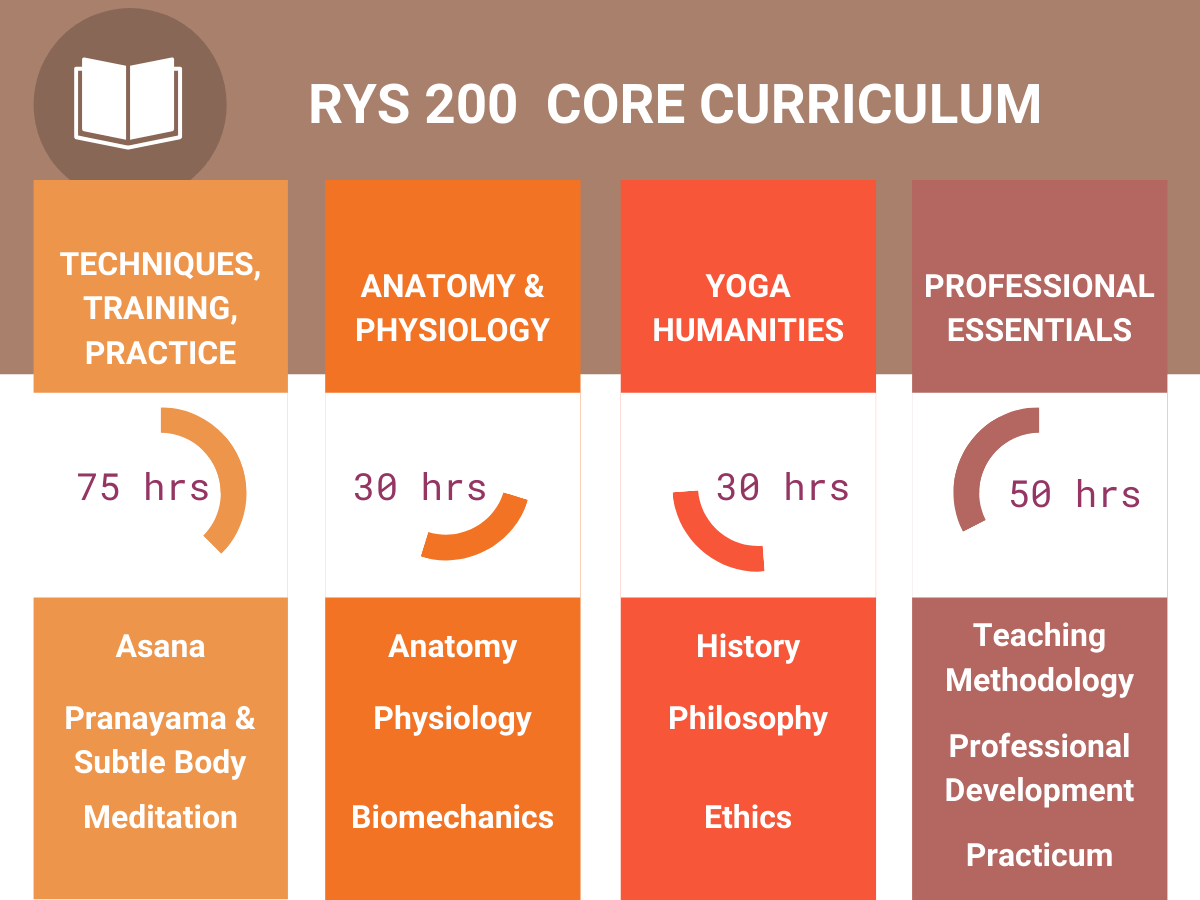 These are the new yoga alliance 200 hour standards that take full effect for all schools in February 2022.  The remaining 15 hours are elective, which must fall into the above core curriculum categories.
You'll be forever changed and empowered. 

You'll learn to own your life and face the things that you fear or have been holding you back with confidence, kindness, and love.

You'll discover what drives your actions and how to make real lasting change for the better.

You'll be in an incredibly safe and supportive environment.

You'll have a practice you can rely on throughout life's ups and downs. 
Yoga Teacher Training Articles